0333 1230 747 (Standard low cost call charges apply)
open mon-sat 9am to 6pm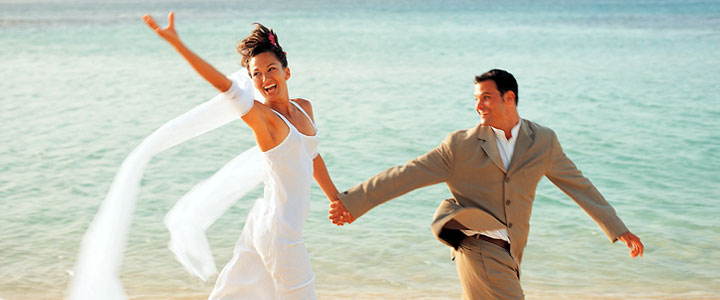 Weddings in Cyprus and beyond
Weddings in Cyprus are our speciality, and our experienced wedding planners take the stress out of organising the arrangements, allowing you to enjoy your special day. Whether you choose a simple service in a traditional town hall, a romantic wedding on the beach or an extravagant ceremony in a luxury hotel, we will be with you every step of the way to ensure your wedding in Cyprus is a day to remember.
Weddings in Cyprus are one of our most popular options with a huge range of quality hotels to choose from and the flexibility to have your wedding in a range of locations.
We have selected a range of partners to offer a truly unforgettable experience for your weddings in Cyprus. If you are true romantics there's no better place to exchange your vows than Cyprus, home of Aphrodite, the goddess of love. It's a perfect place to begin married life together, as you relax on secluded coves of sand and walk hand in hand along the golden beaches.
Weddings in Cyprus - Special Offers
Athena Beach Hotel 4* Superior, Paphos
Athena Royal Beach Hotel 4* Deluxe, Paphos
Pioneer Beach Hotel 4* Superior, Paphos
Free room upgrade for the wedding couple
Sparkling wine and fruit on arrival
Breakfast in the room after the wedding day
Complimentary candle lit dinner for two persons
Free use of sauna and steam bath
Group discounts available for large party sizes including a complimentary stay for the wedding couple for groups of 20 or more
Two free nights hotel accommodation for wedding inspection visit to help you finalise your wedding in Cyprus arrangements
Asimina Suites Hotel 5* Deluxe, Paphos
Sparkling wine and fruit on arrival
Breakfast in the room after the wedding day
Complimentary candle lit dinner for two persons
Free use of sauna and steam bath
To discuss you personal requirements for weddings in Cyprus and for a quotation please call our wedding planners on:
0333 1230 747

Our Destinations

Other

Lifestyle Holidays

Recommended Hotels